Bringing your child to the dentist for the first time is an important step in the establishment of good dental habits. Proper care of teeth is a habit that is best learned early, and acclimation to the dentist's office as a routine thing is a primary goal of the first visit.
At this stage, the main focus is on having a pleasant, non-stressful experience, and preventing any anxiety about dental checkups to whatever degree possible.
The first dental checkup can be any time after your child first cuts a tooth.
It should be before age one, ideally, and has as a main goal just getting used to the idea of going to the dentist. It can help to prepare for the trip if you look at your child's teeth as a routine, scheduled action, always done in a friendly and non-threatening way, just so he is comfortable with the idea of someone else looking at his teeth.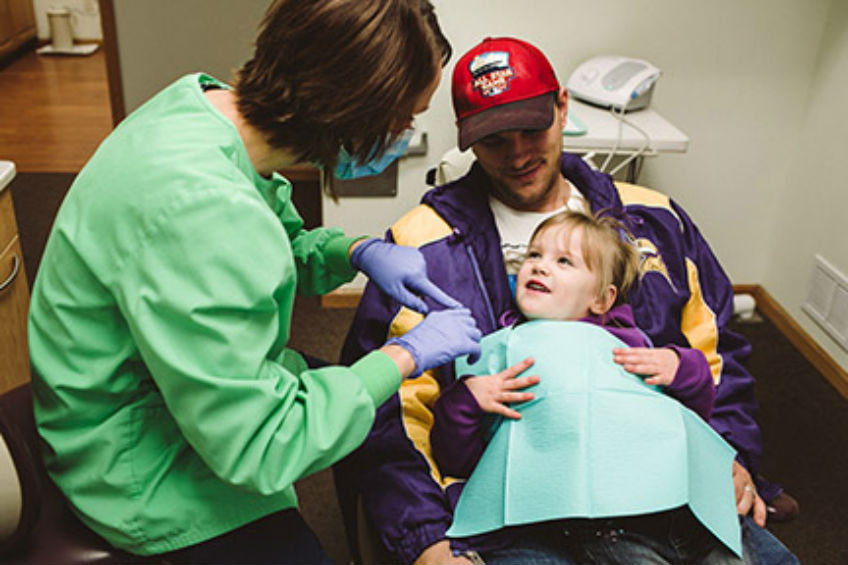 During any pediatric dental visit, you should stay in the room with your child. This will make for a much more comfortable and anxiety-free experience.
And of course, if at any time your child becomes upset or distressed with a dental procedure, it can be done more gradually so as to make it comfortable and not too sudden.
By bringing your child to the dentist, you will help promote a lifetime of oral health and good dental habits.