Worry Free Dentistry
Whether you'll need something like a root canal procedure or just a routine cleaning, we think you will be comfortable with Dr. David Tycast and our team. We perform a wide array of dental care treatments right here within our Le Sueur, MN office including routine checkups and cleanings, cosmetic dentistry, dental implants, dental bridges, porcelain veneers, children's dentistry, periodontal treatment, and much more. Of course, sometimes there are occasions when a dental specialist is needed. We have wonderful relationships with a number of specialists in the area and we can refer you to the right one for anything you might need.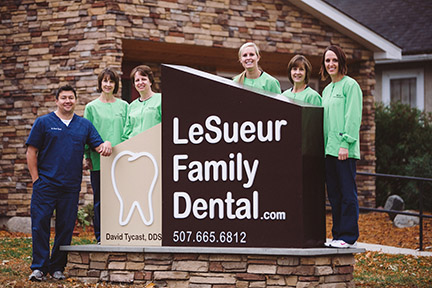 We address every one of our patients with special care so that you are not just pleased with the outcome, but with your whole visit and the whole process.
We provide a wide range of dental care procedures to all of our patients from Le Sueur and the surrounding areas, utilizing state-of-the-art technology and gear. We desire for you to have a beautiful and healthy smile, and we will do everything we can to help you to achieve that.
Our Le Sueur, MN office offers the following treatments:
• Cleanings & Prevention
• Cosmetic Dentistry
• Periodontal Disease Treatments
• Restorations
• Pediatric Dental Care
Call our office at (507) 665-6812 to make an appointment. You deserve a more healthy, bright, more confident smile!