Scrolling on social media in 2022 is like watching a thousand advertisements on a perfect smile. Everywhere you look – celebrities, influencers, YouTubers, and even regular people – everyone is flaunting these perfectly aligned and pretty teeth. The secret? Porcelain veneers. If this seems like something you'd be interested in, keep on reading. We'll talk about veneers – including why you need them, and how much veneers cost.
What Are Veneers?
Dental veneers – popularly known as porcelain veneers – are cosmetic treatments provided by dentists. These are wafer-thin shells made of porcelain placed on the teeth's front surfaces.
Veneers fix many dental problems and also enhance the appearance of your teeth. 
What Problems Do Veneers Fix?
Dentists routinely recommend veneers to fix –
Discolored teeth due to –

Colored foods and drinks

Smoking

Root Canal Treatment

Medicine use

Large fillings

Excess fluoride

Worn-down teeth

Teeth with chips, cracks, and breaks

Uneven, misaligned, or differently-shaped teeth

Teeth with spaces between them
How Much Do Veneers Cost: Let's Explore the Process of Getting Veneers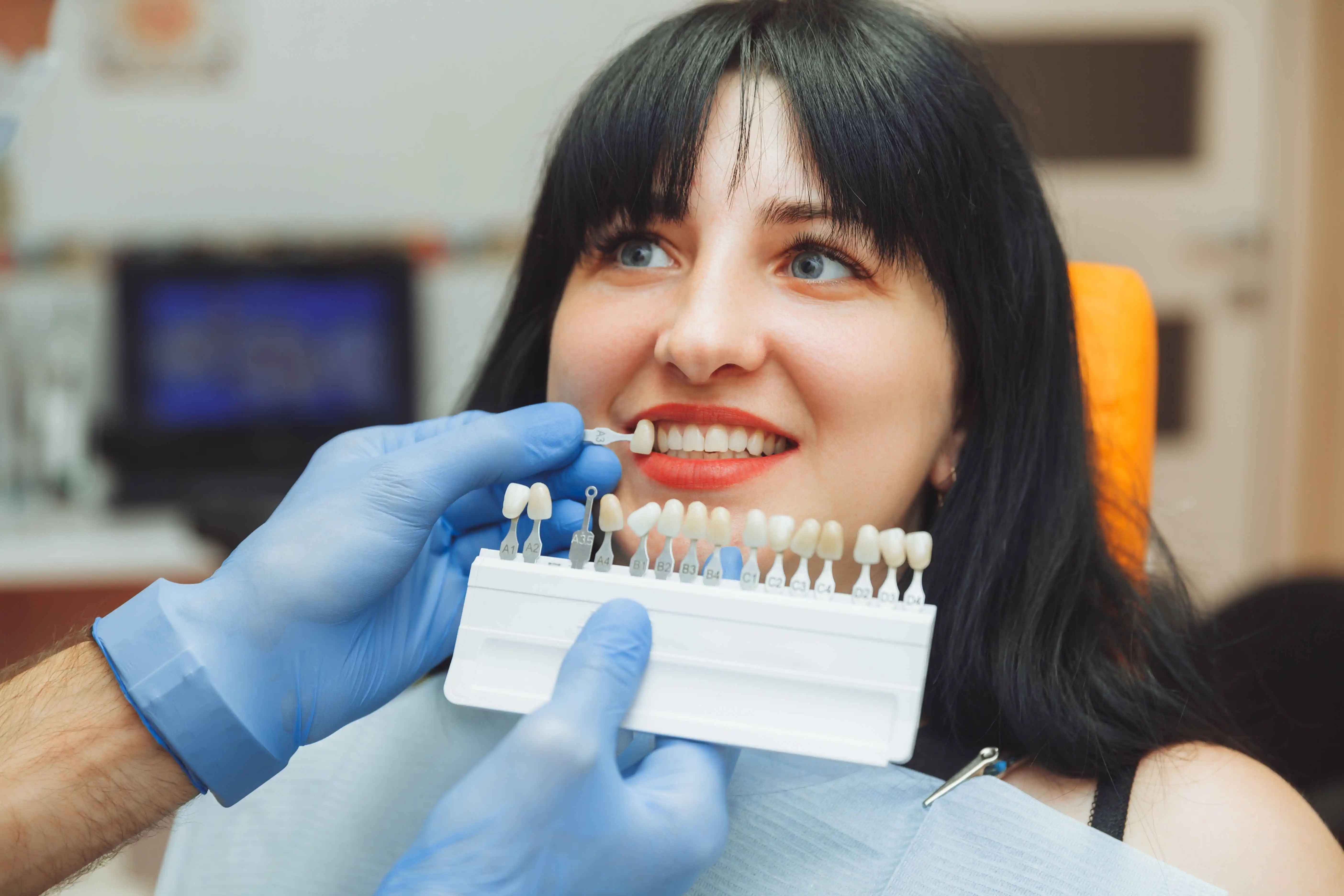 If you're thinking of getting porcelain veneers, you will probably be taking at least three trips to your dentist from start to finish. The first step is a consultation to assess your oral health and if you're a good candidate for veneers. The other two are to prepare the teeth and apply the veneers.
Step One: Diagnosis and Treatment Planning
At the first visit, our dentist discusses the results you expect from the treatment. They examine your teeth and ensure that the treatment of choice is right for you.
They also discuss the treatment procedure and the realistic outcomes. Then take X-rays and make impressions of the teeth and mouth.
Step Two: Preparation
The teeth getting veneers require a bit of prep. Our dentist reshapes the tooth surface – nearly equal to the thickness of the veneer to be attached. This alteration creates space for the veneers to be placed and cannot be reversed.
They might opt to numb the area before trimming the enamel off the teeth. Once complete, they make impressions and models of the teeth.
These are sent out to a dental laboratory that makes the veneers. It takes about 2-4 weeks for the finished veneers to be sent to the dental clinic. 
Our dentist might opt to give you temporary veneers in the meantime.
Step Three: Bonding
Once the veneers are at the dental clinic, you come in for the final appointment.
Our dentist places the veneers on each tooth to examine the fit and color. They repeatedly remove and trim the veneer to achieve the proper fit.
When they are happy with the outcome, they prepare the teeth to receive the veneers. They clean, polish, and etch the teeth – the last step roughens the tooth for a strong bonding process. 
They apply dental cement to the veneer and then place it on the tooth. After properly positioning it, they shine a special light beam to harden the cement.
The final step involves removing any excess cement, checking your bite, and making any required adjustments.
You might be asked to return for a follow-up in a couple of weeks to assess the gums and the veneer placement. As you can see, getting dental veneers is a complicated process, which involves multiple stages, including the creation of the veneers themselves. All of these factors are taken into account when determining how much veneers cost. 
Caring For Dental Veneers
The great thing about dental veneers is that they don't require any special care. All you need to do is continue to follow good oral hygiene practices.
To clarify, here's what you need to do –
Brush twice daily for 2 minutes each time.

Floss at least once a day.

Use an antiseptic mouthwash.

Visit your dentist routinely for oral assessments.
Porcelain veneers are resistant to staining. However, our dentist recommends that you avoid stain-causing foods and beverages, and stop smoking to maintain that pearly smile. 
How Much Do Veneers Cost?
The out-of-pocket cost for dental veneers varies from patient to patient. The total cost of the veneer treatment depends on the following factors – 
The number of veneers that the dentist recommends

Amount of work that will go into the preparation and placement of the veneers

The type of veneers that the dentist uses

Your vision and expectations for your smile
The average cost of porcelain veneers is $1500 per tooth, which can range anywhere from $800 – $2000.
How Much Do Veneers Cost: Are They Worth It?
When it comes to giving a clear-cut answer to the question: 'How much do veneers cost?', the fact is it varies from one clinic to another. What we can say is that veneers are definitely at the higher end of the price spectrum.
Since veneers aren't exactly affordable, it's understandable that you would want to weigh the pros and cons before investing your time and money into them.
Since veneers are a cosmetic procedure, dental insurance will most likely not cover them. However, if it is recommended as a preventive/restorative treatment, your insurance might cover a part of the cost. It is advised that you speak to your insurance providers to get a better understanding of the costs.
Coming to whether veneers are worth the price tag, it all depends. For actors, people on TV, public personas, etc., veneers are a good career investment. For regular people like you and I, veneers allow us to be more comfortable in social situations – especially if we're conscious about our smiles.
In terms of dollars and cents, it can be hard to calculate the benefit of veneers. It is up to you to decide for or against the treatment.
Our dental expert at Le Sueur will help you figure out if veneers are the right option for you. 
How Much Do Veneers Cost at Le Sueur Family Dental? Book a Consultation Today to Find Out!
A 2007 graduate of the University of Minnesota School of Dentistry, Dr. David Tycast is the dental expert at Le Sueur Family Dental. He provides his patients with the most comprehensive, up-to-date dental care possible. Dr. Tycast thinks of his practice as high-tech dentistry with a small-town mentality.
A standard of excellence in personalized dental care enables the Le Sueur team to deliver the quality dental services our patients deserve. We have one goal in mind: to give you the best possible service and results.
To schedule an appointment with Dr. David Tycast, call us at (507) 665-6812. We will be happy to answer all your questions about dental veneers, including—How much do veneers cost? You can also request an appointment by filling out this form. 
You must remember that dental practices cannot provide an accurate cost of dental veneers over the phone. Since your needs are as unique as your smile, we recommend visiting our clinic to find all the treatment options and receive an accurate quote.
You can also take advantage of the Le Sueur Family Dental Plan for savings on various dental treatments, including veneers.