In the 21st century, "How long do teeth whitening last?" is one of the most searched questions. Teeth staining is a phenomenon with which everyone is struggling. In the era of social media like Instagram, Snapchat, etc., everyone wants to look good in their photos. But stained teeth reduce the confidence and interest in clicking pictures.
The natural process of aging, foods, and drinks will cause your teeth to become a little darker, no matter how much you take care of your teeth. Tooth whitening is a quick, easy treatment to restore your sparkling grin and self-confidence.
Le Sueur Family Dental offers effective in-office and touch-up whitening treatments in Le Sueur, Minnesota. We'll feel happy to answer your queries, so feel confident that whitening is the proper treatment for you. In the meantime, you can read this blog to learn about the causes, remedies, and post-treatment care of teeth staining.
How Do Dental Stains Occur?
There are various reasons your teeth lose their brightness or are discolored. Teeth discoloration can happen because of the types of food or your daily life routine. These reasons fall under the classifications of teeth staining, which are as follows.
Extrinsic Stains:
In extrinsic staining, discoloration is seen on the surface/enamel of the teeth. It is usually the result of food, drinks, age, and other factors like smoking. Common tooth-staining culprits are coffee, cola, and dark-colored foods like red wine and berries.
Some acidic foods like citrus and soda also cause stains because acids can erode your enamel. Some starchy foods, like pasta and potatoes, can also cause staining conditions. One good thing is that since extrinsic stains are limited to enamel, they are the easiest to remove.
If you've undergone the teeth whitening treatment, it's natural that you want the effects to last longer. You can follow below-mentioned steps:

Use a straw while drinking potential stain-causing beverages; this will help in reducing the chances of staining your teeth.

After drinking, rinsing your mouth with water helps to remove pigmented particles from the surface before they can be absorbed.

You can treat extrinsic stains with regular dental cleanings and teeth whitening products.
Intrinsic Stains:
Intrinsic stains occur after the sensitive layer underneath the enamel, called dentin, becomes stained. The common reasons for intrinsic tooth stains are as follows:
Fluoride –

During enamel formation, excess fluoride consumption can create brownish staining or mottling.

Decay –

Where the tooth meets the gum, tooth decay appears in a greyish-black color.

Medications –

Antibiotics containing tetracycline and doxycycline can discolor developing teeth in children.
Some antipsychotic drugs, antihypertensive, and antihistamines medications are also linked to discoloration of teeth.
Aging:

As we grow older, the outer layer of enamel starts wearing away, revealing the natural yellow color of the dentin. Grinding and hard brushing also cause the appearance of the teeth to darken.

Tooth trauma:

Nerve damage can also be a reason for the teeth to become darkened or discolored.
Since intrinsic stains exist on a deeper layer of the tooth, they are more quickly addressed than enamel stains. They may require more extensive dental treatment, such as in-office whitening solutions or at-home tray-based whitening products.
Age-Related Stains:

These stains result from both extrinsic and intrinsic staining. Our body changes as we age, and our teeth are no exception.
Tooth enamel thins with aging, and the core tissues (dentin) naturally become yellows. Together, these factors allow dentin to be more apparent. Even the healthiest teeth will show staining when combined with extrinsic stains caused by years of tobacco usage or consuming certain foods and beverages.
Just as intrinsic stains, age-related staining also affect the dentin of your teeth. So, whitening techniques for intrinsic stains work best with aging teeth too. Professional teeth cleanings every six months can remove stains more effectively than daily brushing and flossing. These visits allow your dentist to check for age-related dental problems like dry mouth, tooth decay, gum disease, and more.
Different Types of Teeth Whitening?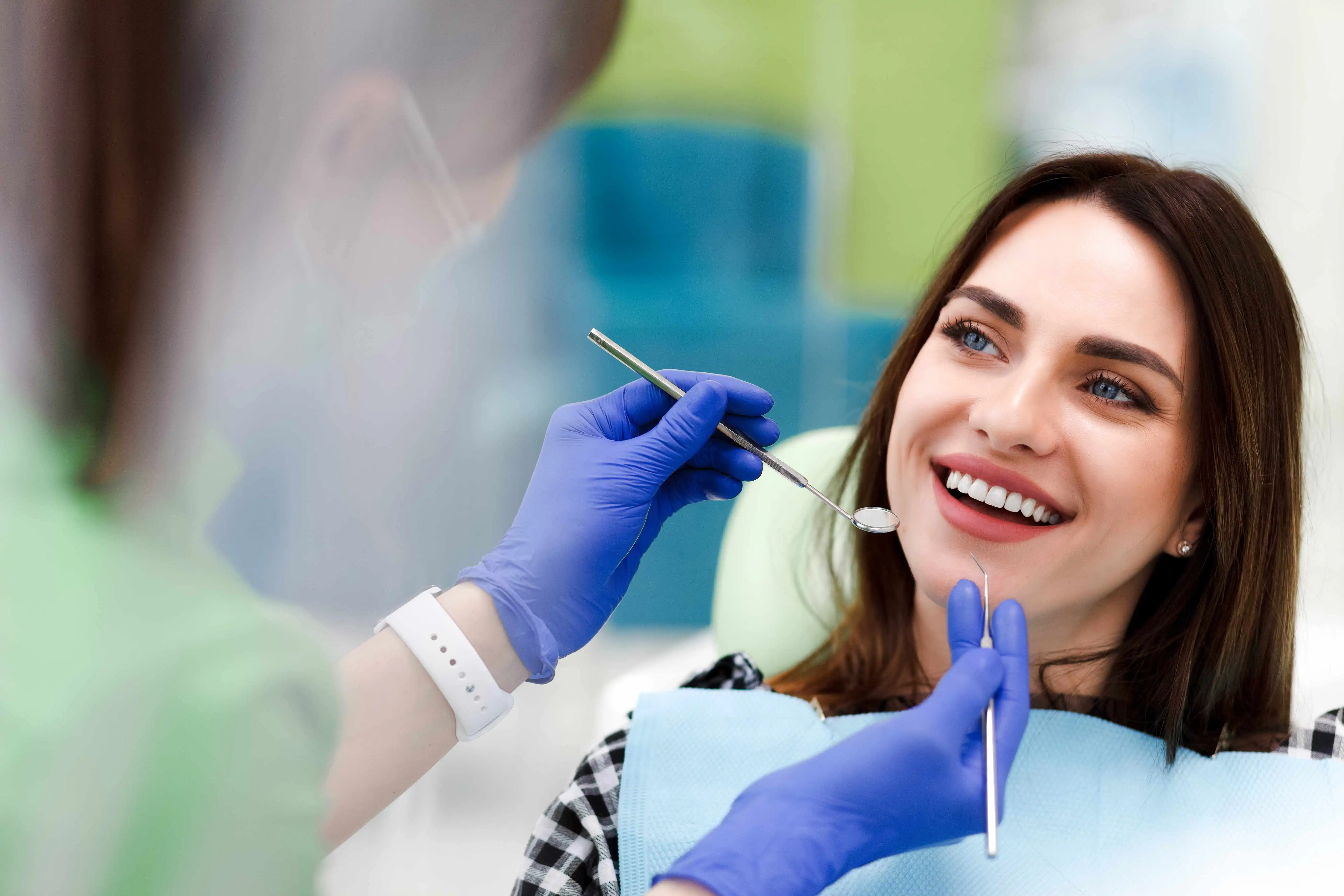 You can choose various teeth whitening options:
In-office Professional Whitening Options:

After the dentist coats your teeth with the peroxide-based whitening gel, they will activate the gel with a light. The peroxide will chemically break down stains to give you dramatic results.

At-home Professional Whitening Options:

Our dentists provide you with custom-made trays. You can fill the trays with peroxide-based gel and wear them daily for a specified time.

Various Over-the-Counter Products:

Drug stores are filled with many teeth whitening solutions, such as whitening strips, toothpaste, pens, and mouthwashes.
How Long Does Teeth Whitening Last?
The results of professional in-office teeth whitening methods may stay over for one to three years. The effects of at-home teeth whitening methods can last for a year. So, it's better to go for in-office professional teeth whitening options.
How Can My Results Last Longer?
You can ensure long-lasting results by following proper dental hygiene. Brushing and flossing your teeth daily, and visiting your dentist at least twice a year.
Drink plenty of water with meals that wash away bits of food from your teeth and limit your intake of stain-producing foods mentioned above.
Are There Any Side Effects of Teeth Whitening?
Most patients experience mild tooth and gum sensitivity after whitening for a few days. The reason for the sensitivity is the concentration of peroxide available in the whitening gel. It is another reason to choose professional tooth whitening.
The peroxide in these products is carefully controlled. The dentist will take all necessary precautions so that it does not come in contact with your gums.
Are there any long-term risks?
According to some reports, teeth whitening can damage the enamel, leading to permanent sensitivity and discoloration. However, these risks are negligible when you opt for professional teeth whitening and follow the dentist's instructions. The damage can happen only when you over-whiten your teeth or use products with unsafe peroxide levels.
Teeth Whitening Treatment at Le Sueur Family Dental
We hope you got the answers to the query, "How Long Does Teeth Whitening Last?" If you still have questions, you can contact us by writing to us @office@lesueurfamilydental.com or by filling out the form.
You can book your appointment by calling us at (507) 665-6812. You can also visit our office at 219 South 2nd Street, Le Sueur, MN, 56058. Le Sueur Family Dental provides dental services for your complete family. Our team of professional dentists can help you with services such as Dental restoration, Root Canals, and various cosmetic dental procedures. Contact us Today!